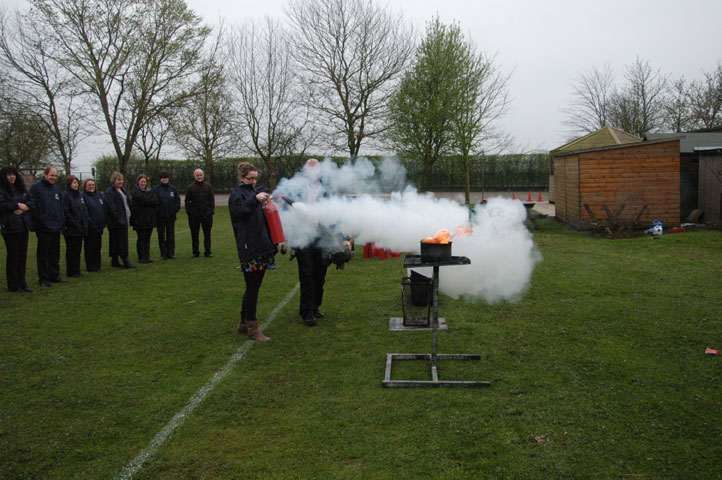 Aim of the Course
This course is designed to educate your employees in fire safety and give them a greater awareness of the types of fire extinguishers on your premises, how to use them safely and what types of fires they can be used on. Building on the fire awareness training it will enable students to be aware of the dangers from fire in the workplace.
N2E can tailor courses to address the risks and needs of your organisation in complying with current legislation. Friendly and experienced instructors from N2E, will engage with your staff in a professional learning environment. They will utilise real life experiences and understanding to ensure professional, interesting and stimulating input, safeguarding your staff, premise and organisation against fire. This course includes all the material and content of our Fire Awareness Training, and has the added inclusion of a practical fire extinguisher session. You get the knowledge of fire safety in the workplace, plus practical guidance on how to use the fire extinguishers!
All businesses are required to have means of fighting fire and generally fire extinguishers are the most common on site –they can be the quickest and most effective way of putting a fire out, if used correctly, by people who know how to use them safely. Correct use can contain the spread of fire, and potentially save lives, if used as soon as a fire has been discovered, so having your staff properly trained and prepared could be the difference between serious loss/damage and the continued running of your business.
Course Content
Fire safety regulations and legislation
Who is the responsible person and what are their duties?
How Staff can assist the responsible person
Risk assessments and hazard identification
Management of dangerous materials and flammable substances
Causes of fire
Understanding Fire
Fire Extinguishers and what types of fire they are classified for
Fire prevention/Safety
Fire action plan
Types of fire extinguisher and practical extinguisher training
Company Fire Policy
Action of discovering a fire
Actions to take to contain a fire
Evacuation procedure
Decision making about tackling a fire
How to tackle a fire safely
Benefits for your organisation
N2E instructors will discuss with you the risk relevant to your premise and your fire policy which will then be included in the presentation to your staff.
All staff will be aware of the dangers of fire and how it will protect their jobs and organisation by enhanced fire safety awareness
Your staff will be trained to use the Fire Fighting equipment that you provide
Protecting your staff, premises and business from the effects of fire.
Protecting your business if staff try to use firefighting equipment provided and have not had training
Preventing small fires from becoming large disasters for your business
Protection of other persons on the premises
Greater understanding of risk assessments
Ensure that your organisation can comply with the current legislation
A certificate for each member of staff attending
N2E will advise you annually when a refresher course would be required
Course Summary
Fire Awareness training
2 hours duration
Your choice of location
20 person max
Certificate upon completion
Theory & practical